One of my favorite toys is my Kreg Drawer Slide Jig.  There are actually two jigs that you'll want to use to help you install a drawer.  These two jigs really compliment each other, and make completing drawer installs a snap.  I picked up both jigs from Amazon for a really reasonable price.  If you haven't installed drawer slides before you'll also want to make sure you're using high quality drawer slides.  To see more information about my review or more information about other projects where I've actually used these jigs.  Check out my blog entry over at:  www.woodlogger.com
The first jig is the Kreg Universal Drawer Slide Mounting Jig.  This jig makes it extremely easy to attach a drawer mount to your project.
It has a magnet and a small lip on the bottom of the jig that allow it to hold your drawer slide for you.  All you do is put your drawer slide on it and then clamp the jig to the case or cabinet your working on.  Another plus is that it will keep it at a 90° angle making it easier to keep everything plum when you install it.  Another thing that I have used is a drawer slide back bracket.  This is a really nice thing to use if you can't mount the drawer slide to the sides of your project.  It holds the drawer slides in place and really anchors it in place.
---
The second jig is the Kreg Drawer Mounting Brackets. These brackets are fantastic for holding the drawer in place after you have installed the drawer slides.
Simply clamp the brackets to your project and sit your drawers on top of the brackets.  Then sit your drawer on top of the brackets.  The drawer sits at the perfect height as it lines up with the width of the mounting jig.  With the drawer sitting on the brackets all that is left is to pull the arms to the drawer slides out and attach them to the drawers.  The entire process is really easy and makes it quick to install drawers into a project.
---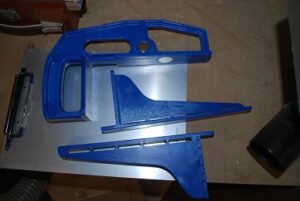 My overall recommendation on these jigs is a big A+.  Both jigs compliment each other very well.  The jigs are easy to use and the instructions are easy to follow.  The quality of the jigs are top-notch(which you would expect from Kreg).  They're made of a high quality plastic and it feels solid.  My only complaint really is that I believe both jigs should be sold as one kit, or at least available as one kit.  These items are manufactured by Kreg and you can find them at Amazon.